Grand Junction Colorado KOA Campground & Cabins Review
|
The other weekend we took a little 'glamping' trip to Grand Junction, CO and tried to hit as many wineries as we could. And yes, that's glamping, as opposed to regular camping. With a dog and 7 month old baby, we haven't ventured out and back into good old tent camping just yet.
So for this trip we decided to stay at the Grand Junction KOA (Kampground of America). We've stayed at a number of other KOA's throughout the country on different road trips, so this was a "safe bet" rather than a campground we had never been to or heard of. The nice things about KOA's are typically the amenities, if you want to use them, like a swimming pool, showers, mini golf, wifi, etc. The downside is of course all the people who think a 40 foot fifth wheel trailer or RV is camping. This weekend we decided to fall in the middle and rented a Deluxe Cabin at the KOA. The small studio type cabin had just enough amenities to make the weekend comfortable with the dog and baby, but a little more room certainly would have been nice, since it was a little tight.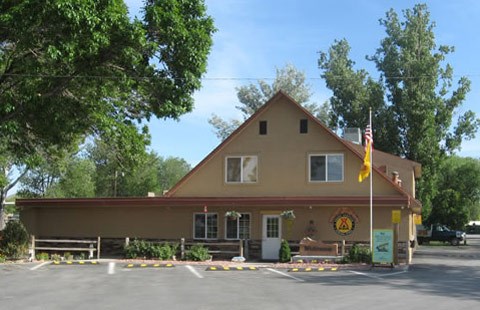 LOCATION
Many of the other KOA's that I have stayed at are pretty close to the highway or literally just off the highway. The added road nose can be a real pain when tractor trailers are flying down the highway in the middle of the night and you are trying to sleep. However, the Grand Junction KOA was nicely located off a "major" road for the area but not a major highway like I-70. It was easy to get to Palisades & Grand Junction very quickly and the noise was not noticeable inside the cabin, however, it may have been for the tent campers. An added bonus for some the weekend that we were there was that the County Fair was happening…and it was right next door at the fairgrounds. While we didn't venture to the fair for cheap game prizes or a funnel cake, we did get to watch a nice fireworks display Saturday night until Bailey started crying from the noise.
With a short 20ish minute drive to the Colorado National Monument, it was a great location for our Saturday adventure into the National Park.
COST
Since Grand Junction is a smaller town but still one of the last large towns going from Colorado into Utah, we could have easily stayed at a hotel for cheaper than the KOA. But being in one small hotel room with a dog and a baby is not that much fun, plus having to eat out for all meals and not being able to enjoy any outdoor time was not what we were looking for. Looking at hotel rooms in the area, we could have stayed for about $50/night. The KOA Deluxe Cabin with a bathroom was about $87/night. Because we had our dog with us that added a little extra per night as well as an additional $5 cleaning fee…not a big deal. Total price for the 2 nights came out around $190 after taxes and everything.
STUDIO/DELUXE CABIN SIZE
The size of the cabin is actually pretty good…for the main area. The main living space features a kitchen area which has a 2 burner stove, microwave, cabinets, some extra counter top prep space, and a small refrigerator. The kitchen was stocked with pots & pans, flatware for 4 people, and some cooking utensils.
There was a small table that had 4 chairs with it…with 4 people this would have been way to small.
The Bathroom was a good size with a tub/shower combo, small sink and toilet. There was also some storage space for your toiletries and towels. Toilet paper, a hand towel, and trash bags were provided.
For sleeping, the cabin had one queen bed in its own room and then a set of bunk beds in the main part of the cabin. Since we didn't use the bunk beds for sleeping they were good storage for us and a place to throw stuff to get it out of the way. We had a pack and play for our daughter to sleep in and there was enough room to put that against the edge of the bunk bed and then still walk by to get to the bathroom. In the 'bedroom' where the queen bed was…it was tight to say the least. There was maybe a foot of space between the bed and the walls all around so it made it tight to walk around the bed and the dog had a hell of a time turning around once he walked down one of the sides, funny to watch actually. An extra 6-12 inches of space on each side would have been perfect.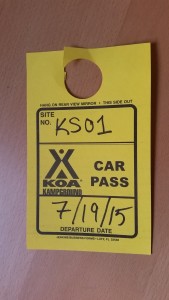 CABIN AMENITIES
Beyond the kitchen, bathroom, and sleeping space I discussed above, I also wanted to mention the other amenities of the cabin that were nice to haves. Inside, the cabin had a nice air conditioner that really cooled the space well. Then there were 2 ceiling fans which helped to move the cool air around.
Outside, the designated space included an above ground fire pit, a patio table and chairs, and a pretty nice 4 burner gas grill. Propane included! While we didn't get to enjoy the fire pit much because of a rain storm that moved in Saturday night, it was a nice size and would have held a healthy fire. There was a cooking grate with it too if you wanted to cook your food right over the fire instead of using the grill. The fire pit also had a nice spark guard lid to keep the embers from flying out during the wind gusts, so that was great.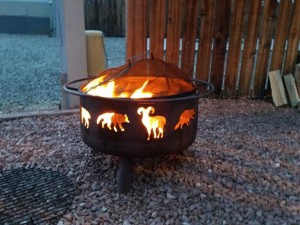 CAMPGROUND AMENITIES
Being a KOA, the campground is set up to provide things for families to do during the day or night, which is pretty nice compared to other campgrounds that you are just camping at with nothing else to entertain you. The campground had an indoor arcade featuring a pool table, a small outdoor mini golf course, a large checkers game board, a swimming pool, big wheel pedal karts, and playground. For the dog owners, they had 2 nice little dog runs/play areas to let your dog off leash and run around some.
This KOA was comprised mostly of large RV/camper spaces with water, electricity, and cable tv hookups. There were also a number of smaller cabins then what we stayed in, but surprisingly there were only 4 official tent camping sites. Friday and Saturday all 4 were occupied; Friday night the campground as completely full. Saturday night there were some open spaces and some tent campers must have been looking for a place to stay as they allowed them to set up tents in the grassy portions of the RV spots. So if you are looking to tent camp at the Grand Junction KOA, I recommend making a reservation early!
Here is a quick little video tour of the deluxe cabin that we stayed in.
Interested in the Grand Junction KOA? You can check them out here: http://koa.com/campgrounds/grand-junction/
If you have a Good Sam membership or KOA membership, you can save a few extra bucks off of the reservation. They also accept AAA memberships for a discount which we used without showing any proof…we offered though!
As a general disclaimer or note, we were not compensated for this review of the KOA or provided with any benefits free of charge. We spent our own money to stay here and the opinions expressed are mine.