eBay Sale Of The Week: Sonos Play:3 Wireless Speaker
|
It's been a while since posting an "eBay Sale Of The Week", so when someone popped on this speaker the other night, I knew I needed to share the find & BOLO (Be On The Lookout).
A couple months back I was in a Goodwill doing the usual sourcing, checking out clothes, electronics, and anything else that was new in the package. I happened to be walking along the electronics shelf when this bright white speaker stood out on the shelf, right at eye level. I don't usually mess with used electronics like speakers and DVD players, but now I am going to keep looking! Sitting there on the shelf was a SONOS Play:3 speaker. I had never heard of the brand but decided to look it up on Amazon. I knew it would be easy to ship in to FBA if the price was good.
Well to my surprise, the price was GREAT. And the rank was good too! Brand new, the speaker retails for $299, used they were selling for around $250. Score! I grabbed it and headed straight to the check out counter, I didn't even bother looking at anything else.
Now, this post is supposed to be about eBay, let's lets talk about that. The used speakers sell just as well on eBay as Amazon. So when I went to get it listed on Amazon, I also snapped a few quick pictures and put together a listing on eBay for it as well. Nothing like doubling your chances of a quick sale right? Listing it for $239.99 with free shipping. Seemed reasonable to me for the condition it was in. Unfortunately, I wasn't able to fully test it since I don't have the rest of a SONOS system just laying around. But they did power on and that was good enough for me.
A lot of low ball offers came in but eventually a buyer and I met at a price of $220 for the speaker. Want to know the best part? I paid only $5.99 for the speaker! Plus it sold within just a few days of being listed on eBay.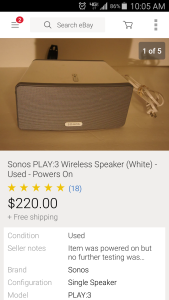 The speaker is not light, about 6 pounds, so once packed, it cost around $13 to ship, but still, that's $200 profit before fees.
So let's break down the full numbers and see what the final profit was for the his bad boy.
| | |
| --- | --- |
| Item Cost | $5.99 |
| Estimated Time Invested | $5.00 |
| Total Cost | $10.99 |
| | |
| Sale Price | $220.00 |
| Less Shipping | $12.60 |
| Less eBay & PayPal Fees | $19.58 |
| Total Received | $187.82 |
| Less Cost | -$10.99 |
| Total Profit | $176.83 |
Oh, and remember how I said the best part was that the price was only $5.99? That was kind of a lie, the even better "best part" was that there was 2 of them! And both sold on eBay for about the same price, again within just a few days of listing it!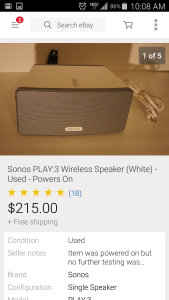 Bam! I'll take that any day of the week.
What was your best sale of the week?